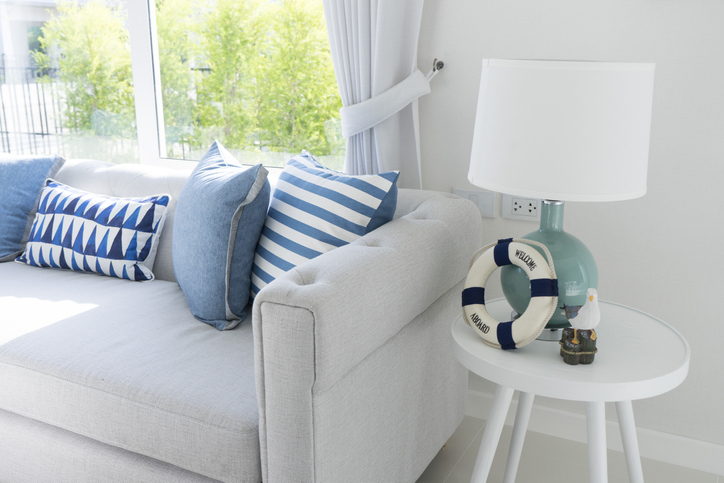 Whether you have an actual beach house or you want to create a beachy ambiance in your home, there are certain kinds of fabrics, materials, and furniture pieces that will help you best achieve this effect. Using colors, textures, and other important elements, you will be able to customize your home the exact way you want it. You don't even need to select anything expensive; the beach house design is casual and can be created using minimal changes to your space. Here are a few ways you can create that beach look with minimal effort and cost.
1. Light, Pastel Color Scheme
The natural colors of the beach are not very pigmented and often have somewhat of a washed-out look to them. Light tan sand, light blue sky, light green-gray ocean, light pink on the horizon. Incorporating those and other similar colors in your paint, furniture, and fabrics in the room will instantly make you think of a beach-like area and is sometimes all you need to do to evoke the beach in your home.
2. Incorporate Weathered-Looking Woods
Wood is an important beach material, especially wood that is light in color and weathered looking. Think of the wood you see at the beach–docks, boardwalk, driftwood, it is all worn from the ocean breeze and the salty sea. Weathered wood can be incorporated into your home in furniture, seating, picture frames, décor, a fireplace mantle, and even as window coverings. Even if you only use wood as a small accent, you'll want to incorporate it somewhere to create a more authentic beach house design.
3. Light-Colored, Textured Throws
The beach is a very textured place with sand, shells, and ocean waves as part of the scenery. It's a place that engages the senses, and so the accents in your home should do the same. Textured throw pillows and blankets in white, sand, or another light beachy color will elevate that vibe you are trying to create. Look for popcorn texture, fringes, loose weaves, and other casual textures that add interest to both the look and the feel of the pieces you choose.
4. Sheer Curtains
You don't want anything that seems heavy in your beach-style home, and that includes window dressings. This is not the place to hang velvet drapes. You want light, airy curtains that will blow in the breeze and otherwise not interfere with your view outside. Natural light is your friend in a beach house and contributes to the ambiance you are going for. Sheer curtains are a great way to add some privacy to your windows while still filtering light in and not giving a heavy look.
5. Natural Fibers Upholstery
In your upholstery, you want to go as natural as possible to continue with the beachy nature theme. Try to choose fabrics that are made of natural fibers like linen and cotton. You can definitely use slip covers to achieve this effect instead of buying all new furniture. Often, the color and look of the material will create the look you want, even if the material is a blend of natural and synthetic. If you have a true beach house, you may want furniture with easy-to-clean upholstery that can withstand sand and salty ocean water residue from people just returning from the shore.
At Howard's Upholstery, our experts will work closely with you to help you achieve the look you want in your home through your furniture and textiles, whether you desire a beach house design or something else entirely. We can create custom furniture pieces as well as reupholster any furniture you need, including creating slipcovers, drapes, and bedding. With just a few choice adjustments, you can turn your home into the paradise of your dreams!