For years, Howard's Upholstery Inc. has been providing a variety of custom window treatments to NYC residents. With our extensive industry knowledge, we can create a vision of what window treatments would best enhance a room upon entering it. Our custom window blinds and drapery services are truly one of a kind; we will show you swatches and samples, and work with you to choose the right fit.
As a window treatment can provide the finishing touch to any room, we consistently strive for perfection with all our window treatment services. We understand that your personal taste is extremely important and completely customize our window treatment services because of this. We work hard to meet all of our clients' wishes and specifications, but also offer our professional opinion to ensure each window treatment is both attractive and functional. All our window treatments are professionally measured and installed by us, guaranteeing the job is done right.

Windows are often referred to as the eyes of the home and shutters and shades allow you to regulate the privacy coming through them. Lighting preferences also pay a large part in what you decide to hang on your windows. For rooms that get a lot of sunlight, our motorized solar shades are a cost-effective choice, helping you regulate temperatures in your home.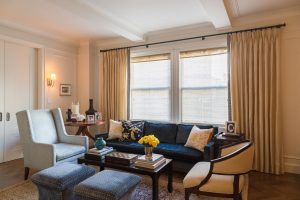 Whether you visualize a window treatment using blinds, shutters, or fabric, Howard's can help you create the windows you've always dreamed of. Thank you for visiting our website. Please feel free to continue browsing for additional information on our custom window treatments, as well as our furniture and upholstery service in New York. For additional inquiries, or to set up an appointment, contact us today .
Shutters and blinds do more than simply afford you privacy…
they enhance your home INSIDE and OUTSIDE.
Have a problem window or door? No problem!
We can fit any specialty window–including circles, skylights, French doors, patio sliding doors, arches, etc.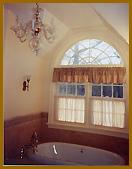 Let us show you how to combine shutters or blinds with draperies, cornices or valances, for a truly customized and unique window treatment.
And remember, all our window treatments are professionally measured and installed, assuring you the perfect result each time!