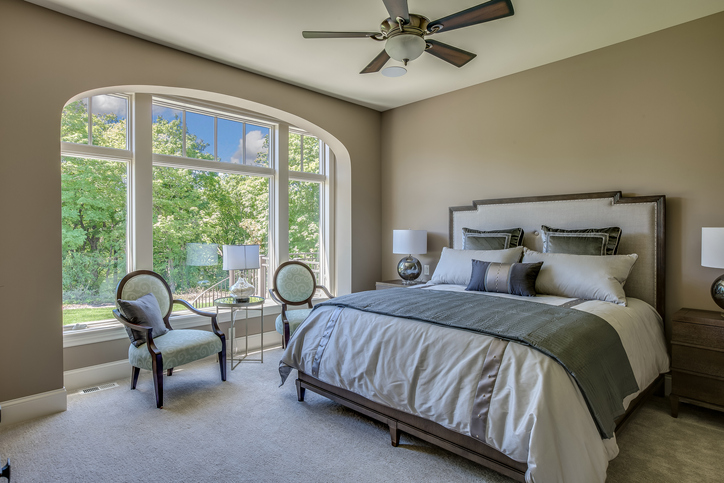 Did you know that your bed is the focal point of your bedroom? When we walk into a bedroom, our eye naturally lands on the bed because it is usually the largest, most prominent object in the room. Therefore, the look of your bed has a big impact on the overall look of your bedroom. You want to make sure you choose bedding that reflects your style and the ambiance you want to create. Read on to learn more about how you can use bedding to style your bedroom space.
1. Duvet Covers
Duvet covers are excellent for changing up the look in your bedroom because they are easy to switch out whenever you feel like it. A duvet cover is like an envelope that goes over your quilt or comforter to protect it and to change up the look. You can find duvet covers in many different materials, patterns, and colors to suit your preferences. They are easy to wash and store, and they come in a range of prices, making them perfect if you like to change the bedding style in your room frequently.
2. Quilts
Quilts and throw blankets come in a variety of styles, which means you can incorporate them into your overall bedroom look as accents or as main features. Quilts often have a textural component to them, which adds interest to your bedroom and makes them great for layering. You can also add a personal element to quilts, using sentimental t-shirts or other material to custom make your own quilt.
3. Throw Pillows
You may not think you need throw pillows on your bed, especially if you are trying to be practical. Most people do not actually sleep on their throw pillows. But throw pillows are like the icing on the cake–the finishing touch that makes your bed look styled and complete. Throw pillows are a great way to add pops of color and texture to your space, and they're an excellent place to go a little crazy or out of the box.
4. Headboards
Not every bed has a headboard, but if you can add one, it elevates the look of your bed and makes it seem more luxurious and finished. Headboards come in a variety of styles and materials depending on the look you are going for. You can have wooden headboards, metal headboards, wicker headboards, and upholstered headboards. It's a good idea to coordinate your bedding style with your headboard so that the look is cohesive and permeates throughout the room. Your headboard can also coordinate with the other furniture in your space.
Bring Your Bedding Style To Life
Whether you incorporate all of these ideas or just one or two, you are sure to enhance the look of your bedroom by putting thought and intention into your bedding style. No matter what aesthetic you love, the experts at Howard's Upholstery can create custom pieces to give you the look you desire. Don't think styled beds are just for magazines or Pinterest–you can have it, too!