There's nothing quite like the feeling of laying down in bed after a long day. Whether you spend most of the day at work, at school, or running after your children, we all like (and need) some rest. But your bed can be even more than just a place to rest your head. It can be a piece of art, and your bedding choices can be the gamechanger. Switching out your old bedding is an easy, inexpensive way to upgrade your bedroom and make it as cozy, comfortable, and conducive to sleep as possible. The American Psychological Association has reported that sleep deprivation is associated with heart disease, high blood pressure, stroke, obesity, and depression. Take a look at some of the best bedding trends of this year and help your body and mind get the rest it deserves.
Casual Cozy
The most popular bedding style of 2018 is undoubtedly the casual cozy vibe. This look screams I-don't-have-to-try. It's effortless. It's easygoing. It's simple and inviting. It looks lived-in and warm. Compared to stuffy, buttoned-up bedding, this style is easy to maintain and upkeep. Throws are tossed, pillows are loosely stacked, blankets are soft and fluffy.
Neutrals and Pastels
Is it a surprise to anyone that muted, soft shades are the biggest trends at the moment? Think beiges, whites, greys, dusty blues, and rosy pinks. This color scheme is all about soothing, calming shades that remind you of relaxation and of sunsets. These colors are easy and gentle on the eyes. Rather than bright shocks of color, these hues will draw you into a deep sleep with ease.
Textures
Perhaps minimalism is a little too simplistic for some. That's why layering different unexpected textures together has become the newest of the bedding trends. Tassels, boldly knitted blankets, pom-poms, and fluffy pillows are all unique and creative ways to jazz up your mattress, all without disrupting a cozy, understated look.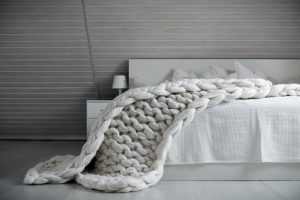 Cashmere
With the temperatures dropping as quickly as they are, you may find yourself reaching for your cashmere blankets and scarves. But have you ever considered cashmere blankets? Indeed, they are just as soft as you'd expect them to be. Made from fibers from cashmere goats, this special wool is many times warmer than regular wool, yet extremely lightweight and soft. Adding a cashmere blanket to your bedroom will not only keep you warm but add a touch of luxury. Cashmere goods generally run higher in price point, but they are a timeless, long-term investment that will last for many years to come.
Maximalism
Surprised? You should be. This bedding style is for those who are sick of the minimalist style that has dominated the market in recent years. Think of loud, bold patterns and vibrant colors. For some, this type of bedding is energizing for slow mornings and long nights. Feel free to add all the colors and patterns you want for something fun and bright.
Your Favorite of the Bedding Trends Will Boost Sleep Health
Getting the proper bedding will significantly improve your sleep and your health. You and your body deserve the highest quality of rest possible. Creating an inviting and restful atmosphere in your bedroom is step one, regardless of what your personal style may be. Be sure to consult professionals in the industry, such as Howard's Upholstery, for help in personally curating the unique pieces for your bed.