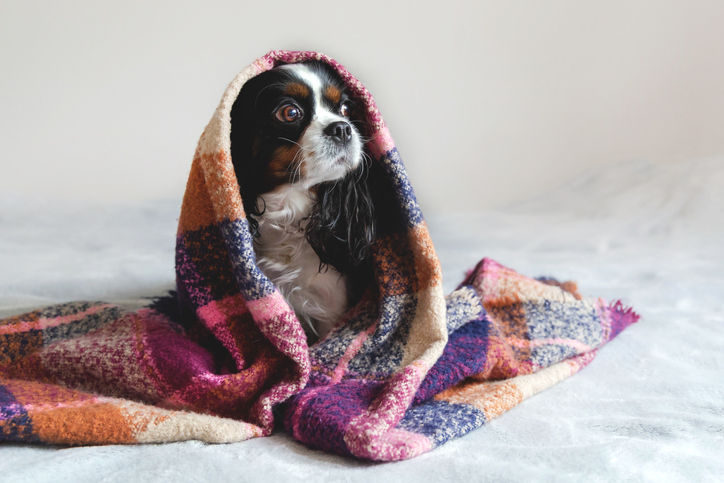 The cold weather is here, which means it's a great time of year to cuddle up under blankets and get cozy. There are so many blanket choices out there, so how do you know which materials are the best for keeping you cozy and warm without being stifling? In addition, some people like their blankets heavy while others like a light feel. Which materials will give you the weight you are looking for? Read on to learn about the different blanket materials out there so you can pick the right ones for the blankets in your home!
Wool
When you think of winter blanket materials, you might automatically think of wool. Wool is a classically warm, heavy-weight material that is also moisture-wicking, meaning it will keep you dry and not sweaty. Blankets made of wool are able to adapt to the changing temperature and remain breathable while keeping you cozy. Wool is also fire resistant. However, many people can be sensitive to the feel of wool on their skin, causing itchiness and even contact rash. If you have sensitive skin, wool may not be the best material choice for you. If you're comfortable with wool, it can be a great winter blanket option. Just be careful when you wash it, as wool has a tendency to shrink.
Cotton
Cotton is a soft material that gets even softer every time you wash it! It's breathable and moisture-wicking, keeping you cool and comfortable. Cotton is also hypoallergenic and is able to be washed safely in hot water, making it a perfect choice if you have sensitive skin. If you are looking for a lighter or mid-weight blanket, cotton can be great all year round. If you want something heavy in the winter, consider one of the other blanket materials.
Fleece
Fleece is a soft, cozy synthetic material that gives you the warmth of wool without the itch. It's not as heavy as wool but can still keep you comfortable on a cold night. Although fleece is synthetic, it's still moisture-wicking, which means it creates a cocoon of dry, warm air around you as you sleep. Fleece is a great choice if you want ultimate softness and are sensitive to wool.
Linen
Hypoallergenic and moisture-wicking, linen is a natural fiber that adjusts to your body temperature so it can keep you warm or cool depending on the climate. Linen does wrinkle easily, but it also gets softer with each wash.
Down
Down is a filling that goes within a blanket (usually cotton) and it's a great way to keep warm in the winter. It's made of feathers, often from geese, and comes in a variety of weights to keep you at the perfect temperature depending on the time of year. Down blankets are not absorbent, however, and they can make you sweaty. Some people may also be allergic to down, in which case there are synthetic alternatives. If you're looking for blankets with some poof to them, down blankets are the way to go.
Silk
Silk blankets are the most luxurious option. The material is strong and soft, making it a perfect choice for any time of year. If you have allergies, you may especially want to consider silk blankets as they have antifungal and antimicrobial properties. Keep in mind, though, that silk blankets must be dry-cleaned.
At Howard's Upholstery, we can make custom blankets for you in the design and fabric you choose. Whether you are looking for blankets with ultimate warmth, softness, allergy-friendly, or any other characteristic, we will work with you to create the perfect blankets for your home.