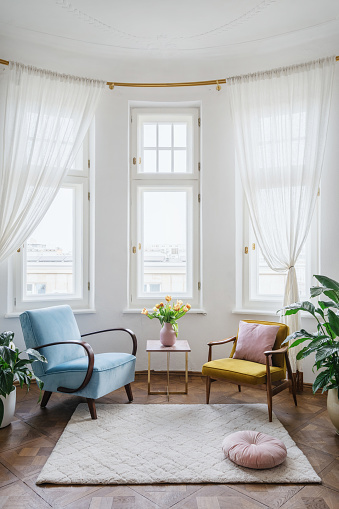 Springtime is the season when the natural world reinvigorates after the coldest months of the year. During the springtime, new seedlings sprout and there's a feeling of new beginnings in the air. Many of us look around our homes, and want to make some changes to our home décor, bringing in bright colors that make the changing season beautiful and vibrant!
The longer days of the season allow us to spend more time outdoors, basking in the sunlight. Due to the newest trends in home décor, this season of renewal allows us to bring bold and bright interior design into our homes. There is also a growing trend for creating a healthy, natural space. Sprucing up your home this spring will renovate your home for this season and for future seasons to come!
The hottest trends for decorating your home include the return of bold color, natural stone surfaces, mixed metal finishes, and statement lighting. Furniture design trends are reverting to styles from the 1960's and 1970's.
Trends In Bold Colors
Springtime is always a wonderful season for color. It's a great opportunity to bring the colors of the blooming flowers indoors. The trending colors this season are uplifting and vibrant, so get ready! Vibrant Oranges and Reds are at the top of the color trend forecasts for spring. Warmer colors are all the rage this season, as opposed to the cooler colors that have been popular for a number of years.
You can try pairing the bolder oranges and reds with smaller accent pieces to not be overwhelmed by the bolder colors. Using oranges or reds on one painted wall, or adding accent pillows to your sofa, will allow you to follow the trend while mixing it with your existing room décor.
Trends In Neutral Colors
Warmer neutral tones can be incorporated into any design, at any time! This spring is a great time to make small changes using this palette, and creating a blank canvas. While it's easy to cover a blank canvas with pops of color, you can also rely on neutrals to keep your home décor on-trend.
Light blue is a color that will lift your spirit this spring, while still remaining neutral. By utilizing this easy color palette, you can bring springtime in and not feel overpowered. Painting all the walls in a room from this easy palette, will help bring the fresh feeling inside, while allowing you to utilize other colors from the spring color trends for accent pieces.
Using Amber Colors
Another color trend this spring is the color palette of amber. Amber reminds us of tropical flowers and wildlife. This hue is referred to as "an organic gemstone". When amber catches the light, it brings a sense of energy, power and renewal. Amber is one of the colors that works very well as an accent when paired with neutral colors.
Bringing amber into your home décor as a stand-out color on a window panel, or even as an accent chair in your living room can be ways to incorporate this trend. This warm hue will also cause your current décor to have a warm and cozy feel.
There is vast amounts of research that shows how colors can impact your mood. Warm shades of orange, red and yellow can evoke feelings of delight and excitement. We can all use some color in our lives, with regard to our home décor. Using bright colors is a great way to boost your mood, inside and outside your home!
Need Help Designing Your Home?
Bringing bright colors and décor into your home this spring can be fun, but it can also be overwhelming. At Howard's Upholstery, we are always here to help you with any and all of your home décor needs. Our staff has over 25 years of designing experience in all areas of interior decorating including window treatments, furniture fabrication, upholstery services and customized projects for any customer! Please feel free to call us at 728.680.3535 or visit our website at howardsupholstery.com.