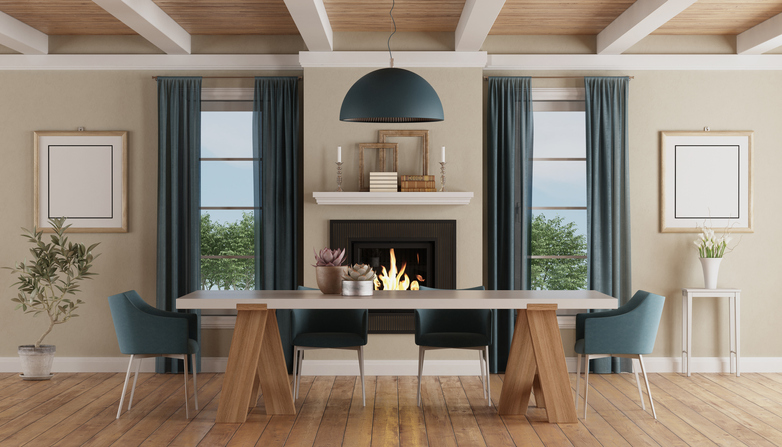 So you've just bought beautiful drapes and now you need to hang them. But how do you hang them so that they look the best in your room? The last thing you want is for them to look messy or out of place against your windows. Drapes serve a dual purpose of providing window coverage while also adding style and dimension to your room. We have laid out for you a few style tips on how to hang drapes properly to get the most out of them.
1. Hang Your Drapes High
You might logically think that drapes should be hung immediately above your window, but while that might seem to make sense, it's actually not the best way to hang your drapes. You can actually use your drapes to create the illusion of taller ceilings and winder windows, making your room look more spacious and inviting. To achieve this effect, hang your drapes around four inches above the top of your window frame. Depending on the height of your ceilings and the location of your window, you can get away with hanging your curtains as little as two inches above the window to as many as six, but it should be within that range.
2. Hang Your Drapes Wide
In addition to elongating your wall space, drapes can also make your windows look wider–and grander–than they are. You also likely don't want to block your windows with your drapes during the day. The recommended way to hang drapes is outside your window frame extending four to as many as ten inches! A good rule of thumb is to have your drapes be twice as wide as your window so they can fully cover your window when closed while still maintaining their width on the outside.
3. Make Sure You Have the Correct Size
When purchasing your drapes, you want to pay attention to their length. You want to measure the height of the space where you are putting them–including the extra inches above the window frame and on the sides. Your drapes should hover a tiny bit above the floor. Too long, and they'll drag and get dirty, not to mention they might look messy. Too short and they'll look like they don't quite fit your space–at best, they will look just okay but won't fully reach the style potential you know they can have!
4. Layer Your Drapes
To add further dimension to your space, you can layer curtains for a more full effect. Layering drapes can also be a practical solution if you want to block out strong sunlight while still maintaining the look of open drapes, and without making your room too dark. You can layer your drapes over sheer curtains or a window shade. This can be a great option if you already have window shades installed and want to add drapes for design purposes.
Drapes are an excellent way to give your room a completed look and to add drama or warmth to your space. At Howard's Upholstery, we can help you with all your window treatment needs. No matter the color scheme or material you are looking for, we will design the perfect drapes for your space in the length and width you desire.