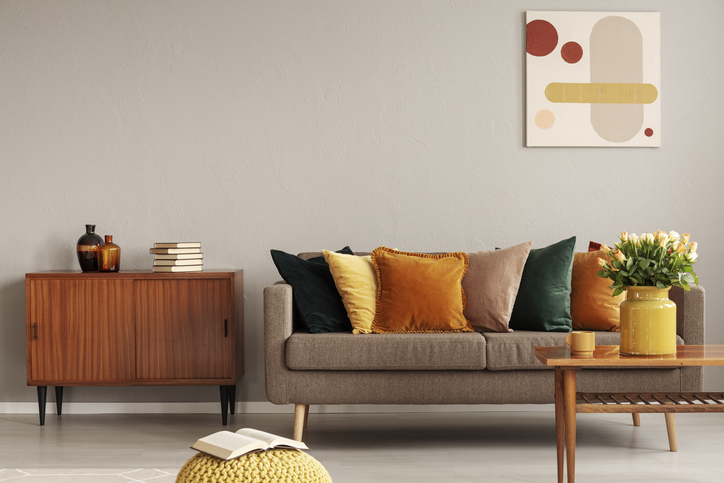 Summer is drawing to a close, and that means we're heading into the most decorated time of year – fall! As the leaves begin to color, inspiration sets in to get our homes in the spirit of this colorful season. Whether you like to go all-out with decorating or enjoy a more subtle nod to the season, there are easy ways to incorporate popular fall home decor trends. Let's look at a few of the most common decor categories and explore how you can include them in your upholstery and your overall home.
Materials
The materials you choose to include in a space play a significant yet subtle role in setting the tone for that area of your home. You should always stick with materials you love and that work for your lifestyle, but you can also add some trendy materials in small ways as accent pieces or decor items.
Rattan and Woven Materials
This year, rattan and other woven textures in particular have made quite the comeback. You can include rattan in big ways, like as a coffee table, or small ways, like adding rattan baskets or trinkets alongside your regular furniture. Rattan adds a warm and textured feel to your space, and adds interest when paired next to your upholstered furniture.
Stone
Another material you may want to consider is stone. Stone has been popular for a while and remains big in the decor world. Though stone can be expensive, you don't need to start investing in large stone pieces. A small stone trinket or even a side table can add elegance to your space and keep your home trendy yet classy. Stone is one of those materials that will never come off as too trendy and won't look outdated, so it's a good investment. Stone alongside upholstery truly elevates your living space.
Wood
Wood goes perfectly with the nature theme that rattan and stone evoke. It adds warmth and an organic feel, as well as texture and interest. Wood can be incorporated in any number of ways, from mantels to furniture to accent pieces. Even a simple wooden picture frame or mirror can add the ambiance that wood brings to your space.
Shapes
You may not have thought much about the shape of your furniture, or maybe you have. If you haven't, you may be surprised to know that the shapes of your furniture and decor pieces add a specific dimension and feel to your overall space.
Curved Furniture
This season, curves are very much in style. If you are looking to replace your couch, a curved couch would be particularly trendy. But you don't have to invest in all new furniture in order to embrace this trend. Round or curvy throw pillows incorporate the effect nicely while softening any boxy corners of your existing furniture. Round side tables also provide this effect and don't have to be expensive.
Organic Shapes
Organic shapes are also in style, especially as the "all natural" trend reigns strong. Many decor pieces come in organic, undefined shapes, such as mirrors, vases, and even picture frames. You don't have to spend a lot to include these pieces in your decorating, and they go a long way in giving your home an up-to-date feel.
Colors
Warm, Earthy Colors
The cool gray and light blue tones of past years are fading out of style and warm tones are coming back in. This makes sense with the emphasis on rattan and wood and an overall harkening back to natural looks. Light wood tones, creams, and earthy greens, browns, and mustards are making their way to the forefront of the decor world.
Tonal Palette
Tonal palettes are very big right now. A tonal palette means choosing one main color and then using various shades of that color within your space. It creates a cohesiveness and sophistication, adding texture and dimension without being too busy.
Black
Black as an accent color has made it big recently, with people even painting their interior doors black or dark gray. Black window frames are also currently stylish, especially in contrast with a light-colored home exterior. Black is a great, modern choice to incorporate in small amounts so the room seems sophisticated without getting too dark. Especially if you have an open and airy home, black can ground your space and is softened by any lighter colors and soft textures you have.
Jewel Tones
Jewel tones are not a new trend, but they're definitely still here and going strong. Deep greens, reds, blues, and purples add a dramatic element and can elevate the sophistication of your space. You can incorporate jewel tones easily in your space through throw pillows and blankets, window treatments, and rugs.
With all the new home decor trends for fall 2022, it's easy to feel overwhelmed. Remember that the most important thing about your space is that you love it, not for it to be trendy. That said, at Howard's Upholstery, we can help you incorporate the current trends in easy, inexpensive ways through slipcovers, window treatments, throw pillows, bedding, reupholstery, and more. No matter what vibe you are going for in your home, we'll help you get there!