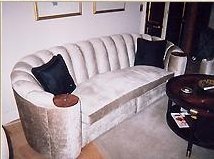 Most home woodworkers think that there isn't a significant amount of hassle to the creation of most pieces of furniture. To them, there's not much to do beyond cutting the wood and attaching it properly, perhaps even using a router on the legs to create a more elegantly styled piece of furniture.
However, for cushioned and upholstered furniture pieces, this is typically just the beginning of the process. Today, we wanted to share a little bit of that process with our readers here at Howards Upholstery Inc., and maybe even inspire a few people to take on their own projects.
This article published by Core77 shows how furniture designers spend hours of time applying padding, fabrics and other softer layers to create a more comfortable chair or sofa. Be sure to check out the videos included on this website, which show the upholstery process for a chaise lounge, a bed frame and a sofa.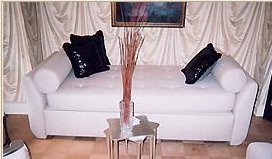 After taking the painstaking effort to shape the materials constructing the furniture and attaching those together, a completely new set of fabrication techniques are needed to apply the layers of fabric on top. At this point, a furniture maker becomes something more of a tailor, cutting sheet to be sewn and glued to the wood or metal frame of a piece nearing completion.
Sewing is another skill that is important to anyone trying to apply upholstery to furniture. Often, the large sheets of fabric are much heavier than cotton or polyester, making this a much more difficult exercise than creating a shirt or a pair of jeans. Different sewing and gluing techniques for fabric can be seen in all of the videos included in the link above.
Howards Upholstery Inc. loves exploring the creative world of furniture upholstery and creating our own stunning products for our New York City and Tri State customers. Whether you're seeking a new piece or need an heirloom reupholstered, we have the materials, equipment and professional expertise to get the job done correctly.