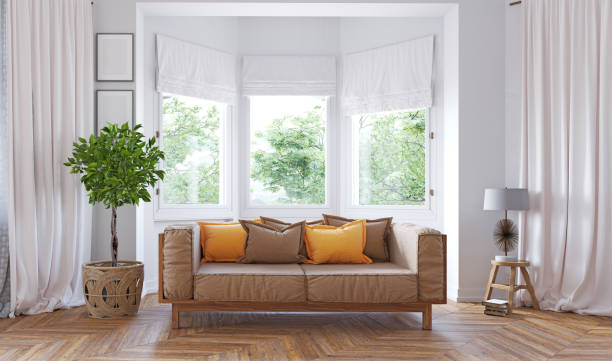 Since the beginning of time, people have been discovering unique ways to manage sunlight in their homes. Due to the wide variety of window treatments, the style has drastically changed over time. Learning about how window treatments have changed over time, can add to the fun of styling your home! Figuring out which style is best for you can also be an exciting process!
Windows In Ancient Times
In Ancient Egypt, the Egyptians would weave papyrus strips together to hang over their windows, in hopes that it would keep their homes cooler. In China, people were utilizing bamboo reeds, woven with twine to cover their windows from the sunlight. The Japanese developed window screens by using rice paper. Fun fact, this style is still used today for home design. Roman shades, which are widely used around the globe, were developed during the Roman Empire. They were built to prevent dust and dirt from entering people's windows. The Persians actually invented the Venetian Blind, which became hugely popular in Europe in the 1700's. The first roller shade patents were filed in 1855 and included in the "spring-back" technology.
As with home design and décor, the window treatment has evolved over the years. During the Industrial Revolution (1900's), Americans took many home décor cues from the Victorian Monarchy. Over-the-top window dressings equipped with elaborate layers were all the rage! Office buildings were mass producing roller shades and window blinds around the same time, which would become a staple for many decades.
Modernized Window Treatments
In the 1960's and 1970's, aluminum mini blinds were introduced and became very popular, not just because they were more affordable, but because they looked more "futuristic" and had a "space-race" aesthetic. The vertical blind was also introduced during this time. The vertical blind has remained a classic through time, because they are much easier to clean and can cover large windows and sliding glass doors. Woven wood and bamboo shades also became very popular in Hawaii and were considered a "laid-back" addition to home décor. Later on, word spread to the mainland.
Over the decades, as with all home fashion, window treatments have evolved. Whether horizontal or vertical, the window shade has remained a constant trend. In the 1980's, wood-alternative mini blinds hit the market and became very popular, due to the fact that they looked like real wood. They were also more reasonably priced. From the "flashy" 1980's and 1990's, which brought us mirrored window blinds, to the early 2000's French-Country trends, window fashion has always stayed relevant! Window treatments stay fashionable, while providing you privacy and sunlight in your home. Window fashion is a great way to express your own personal style while keeping up with trends.
What's Trendy Now?
Whether you're a minimalist and love the clean look of neutral colors and simple blinds or enjoy the "quiet" look of a window panel, window style is fun to create! Currently, you can customize your blinds by choosing right and colorful blinds with curtains to match. No matter what you desire, you can make it happen. Although blinds are a simple thing to change, the right decorator can help you brighten up any space!
Howard's Reupholstery is here to help you decide what works best for you! We have a wide selection of fabrics and a great eye for helping you decide what feels right for your home. We have been in business for over 40 years, so let us help you professionally measure, design and install your perfect window treatments! Don't hesitate to contact one of our experts at (718) 680-3535 or visit us in person for all the help you need!
Follow Us On Facebook For Updates!