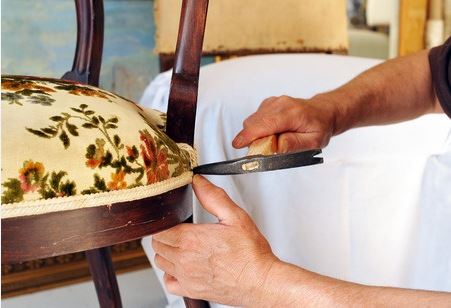 Do you have an old chair that you absolutely love, but it has seen better days? Or do you have a couch that no longer fits the look and feel of a room that you recently redesigned? You could go out and spend a lot of money replacing these furniture items, or you could use custom upholstery to bring them back to life! Whether you have an old piece of furniture that has been in your family for years or a newer item that you simply don't like the look of anymore, reupholstering might be the best option for you.
At the moment, there are a number of upholstery trends that you can use to change the look of a chair, a couch, an ottoman or any other furniture item that you might have in your home. One of the most popular trends right now involves using bold fabrics and colors to turn an elegant furniture item into a statement piece. Many homeowners are experimenting with crazy, unique patterns, using them to turn otherwise bland furniture pieces into centerpiece items that truly stand out with geometric patterns or tribal designs.
When it comes to color, blue is very in right now. Teal and other fun shades of blue have been a favorite choice for a few years, but it's not the only option, of course. Some designers, like David Herbert of David Seyfried Ltd., says that warmer orange and red colors are becoming popular, adding a vibrancy that can stand out in a room. Of course, neutral colors in the grey spectrum never seem to go out of style, and if you have a more traditional home, you might want to opt for a color that falls into this range. It will still pop and give your furnishings a new look without making too strong of a statement.
The beauty of custom upholstery is that you can use it to completely transform just about any piece of furniture, regardless of whether or not you want to follow the recent trends. Howard's Upholstery offers custom upholstery services and we can help you select a new look to make the furniture in your home look brand new again. Get started by calling us at 718-680-3535 today.