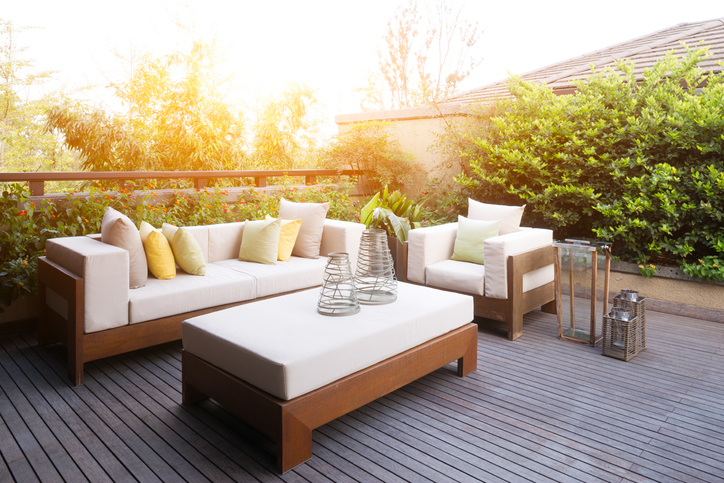 Outdoor seating can elevate your yard space and patio, extending your home living to the outdoors and making it comfortable to entertain when it's beautiful outside. But what happens to your outdoor furniture when it rains? Outdoor fabrics are specifically designed to get wet, dirty, and sunbaked without getting faded, stained, or moldy. So how does it work? What makes outdoor fabric so sturdy?
1. Solution-Dyed Threads
When you think of colored threads, you're likely thinking of white thread that goes through a dying process in order to be colored. However, this kind of thread will fade in constant sunlight and UV exposure, such as during the summer months. Outdoor upholstery, such as Sunbrella products, are made using solution-dyed fabric. This means that the threads themselves are actually spun out of dye, so the threads were colorful from the very beginning. There is no separate dying process. The color won't fade because there is no whiteness underneath for it to fade to. This also means you can clean the fabric with bleach without compromising on the color saturation.
2. Water Resistant
Water resistant fabric is fabric that will block–or resist–water penetration for a period of time, but the water will eventually seep into the fabric if left there long enough. You'll know a material is water resistant when you see liquid bead up after it is spilled onto the fabric. Many tablecloths are made this way, too. It's convenient when you are sitting there and able to clean up the spill, but doesn't necessarily protect your furniture from moisture if left out in the rain for long periods of time. True waterproof fabric would not be comfortable to sit on as it's completely not breathable, so water resistant fabric that is also anti-microbial or mildew resistant is an excellent compromise.
3. Easily Cleanable
Outdoor furniture is going to get dirty–that's the inevitable nature of being outdoors. That means you're going to want a material that is easy to clean. After all, if your furniture is stained, you're not going to want to sit and relax on it–and you certainly won't want to use it for entertaining! Luckily, performance fabric that is made specifically to withstand the harsher conditions of the outdoors is also easy to clean. As mentioned above, solution-dyed threads are bleachable. They are also mildew resistant, and respond well to cleanings with soap and water.
Outdoor Fabrics in Your Design
Outdoor fabrics have come a long way in comfort, durability, and style. No matter what look you're going for, chances are, you will be able to find an outdoor fabric to fit your aesthetic. At Howard's Upholstery, we can help you choose the perfect fabric and customize outdoor furniture pieces to your specific taste.