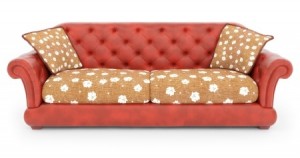 As we reach an age of minimalism and a time where wasting electricity or taking up more space than you should is a bad thing, we also start to see some interesting trends with upholstery. The trends make sense, but when you hear someone say that size does matter in this case, they are actually talking about things being smaller, not larger.
A furniture trend that is sweeping so fast that some furniture stores are making sure to catch onto it before it can fade away. It's all about small furniture, to accommodate smaller living spaces as more and more people stop getting the multiple story houses with six bedrooms when they are only going to use three anyway. There's a reason so many mansions have been going on sale in Los Angeles, as even Hollywood stars are flocking to smaller places to do their part for the environment.
The problem is furniture is rather large; from the sofa to the giant TVs, everything is huge. And that means there are more and more people looking for their outs with smaller furniture, even going so far as to have sofas upholstered and cut down to be smaller because they liked the style of it originally.
But most interesting of all is more and more people are opting out of sofas entirely, instead favoring the lounge chairs and even bag chairs as the regular means of sitting somewhere. It doesn't mean the end of the sofa of course, just the evolution to a direction of smaller sofas, such as love seats without calling them love seats.
Source: https://www.furnituretoday.com/article/493338-upholstery-size-really-matters