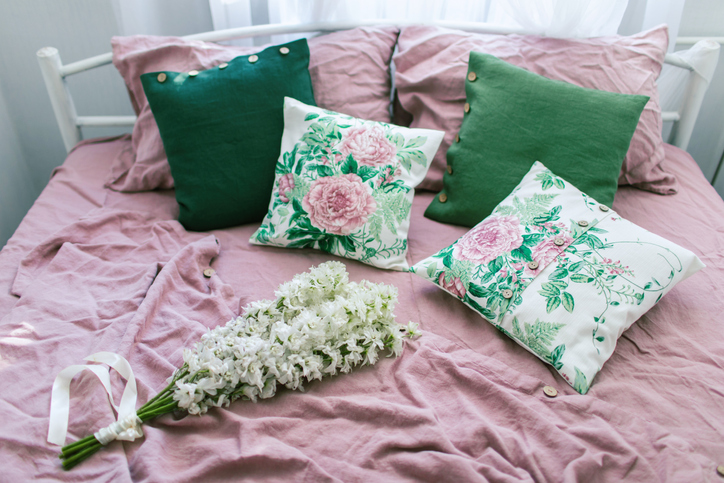 Are you looking to update your home's decor for the change of season? Switching up textiles in your home is an easy and relatively inexpensive way to freshen up your space for the spring season. Instead of the down comforters, chunky throws, and velvet drapes of winter, you can use material, pattern, and color to create a spring oasis in your home. Some easy places to switch out your textiles are new sheets or duvet covers, slipcovers for couches and armchairs, drapes, throw blankets, throw pillows, and even table linens. In this post, we will give you three elements to consider in order to brighten and lighten up your home using spring fabrics!
Material
Materials that are most appropriate for warmer weather tend to be lighter in weight than winter materials. You also want a textile that is breathable, such as cotton or linen; these textiles contain natural fibers that allow for a good amount of air circulation and won't trap heat, keeping your body and your home cool and comfortable. Silk is another excellent springtime fabric that is perfect for introducing into your home during the warmer months. Fabrics such as cotton, linen, silk, and flax give off a light, airy look that creates a cheerful, cooling ambiance and even beachy vibes.
Pattern
Patterned throws, drapes, and even upholstery are very much in style in 2020 and contribute to the overall look and feel of your home. Large florals, bold stripes, polka dots, and checkered patterns are some of the modern favorites that will give your home an up-to-date look that is also classic and tasteful. Utilize a mix of patterns and solids to keep the look from becoming too busy and to add a layered interest to your space. With a smart pattern and solid combination, your space can look professionally designed with minimal effort from you!
Color
It's a scientific fact that color affects mood. That means you can use color in the textiles of your home to create an entirely different feel for spring than you had for winter. Winter is all about cozy warmth, but spring inspires colors that makes us think of sunshine and delicate flowers in bloom. Pastels across the spectrum and bright yellows, blues, and pinks are all classic colors of springtime.
Custom Spring Fabrics to Create the Perfect Spring Look
At Howard's Upholstery, we can help you select textiles for any room of your home so you can achieve the perfect spring look you've been dreaming of. No matter what your style is, we will work with you to help you create a look you love. We have a variety of fabrics to choose from, so give us a call whenever you are ready to update for spring!