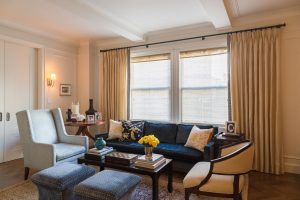 During the winter months, we do what we can to keep our homes warm. However, despite our best efforts, sometimes the heat escapes, leaving certain rooms colder than others. To help combat the winter chill, think about adding new window treatments such as blinds, shutters and fabric drapes to help keep heat in and winter out.
Adding new window treatments to the windows in different areas of your home will keep your home, condo or apartment warmer in the cold unforgiving months of winter.
Blinds and Shades
If you are looking to add new blinds or shades, the best places to add them are at any south- and west-facing rooms. That way, during the day, you can open them up and allow sunlight to come into the home. By night, you can close them to help keep the heat in. HouseLogic notes that honeycomb shades are particularly efficient due to the layered design that helps keep warm air inside. Blinds are also a great all-season choice, as well, as during the summer months, you can use them to keep sunlight out and help keep your home more comfortable and cool.
Shutters
Where blinds largely reflect heat and control heat intake, shutters act as insulators. The reason for this is because of their design. Shutters are made to fit tightly in window frames. This also means they prevent the transfer of heat through air movement, helping to form a barrier that traps cool air out and warm air in to keep your home warm.
Drapes and Curtains
Fabric drapes can be helpful in keeping your home warm, especially if they come with a lining or interlining. Thermal lined drapes have a thick layer of internal lining which helps serve as insulation during the winter season. This helps block out the cold and keep your heat in. White lining on the backs of curtains or drapes can also make them beneficial in the summer, reflecting the warm sun to keep your space cozy and cool in the summer heat, says Houzz.
Whether you are looking to keep the heat in this winter or just are in the market for new window treatments, Howards Upholstery can help. We offer custom window treatments for homes in Brooklyn and throughout the five boroughs and will work with you to help you find the best look for your home. For more information on our custom window treatment services, call us at 718-680-3535 today!