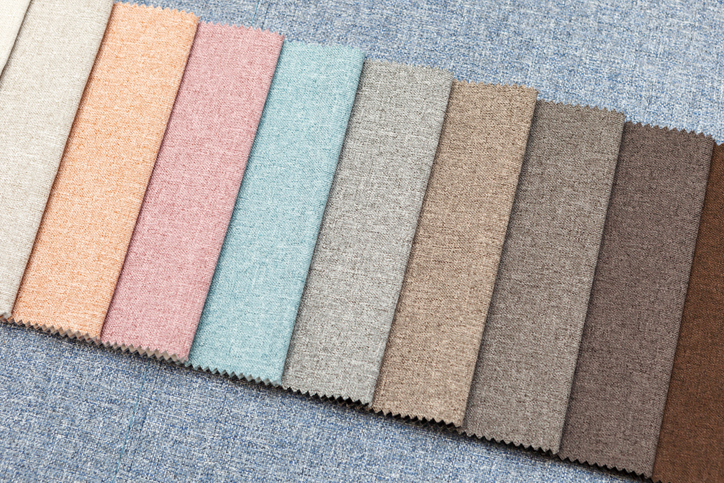 So you want to embrace the colors of summer in your home with updated decor, but what about your furniture? You're obviously not going to buy new furniture every season, but did you know slipcovers and even reupholstering furniture does not have to break the bank? Adding throw pillows and blankets to your couches and chairs can also help bring in a summery color scheme. You can even change out your window coverings. If you are looking for some summer fabrics for your home, we've got you covered on which fabrics and colors are the most popular for this season.
Light Colors
If you go somewhere like Florida where it is perpetually sunny, you will notice that many of the homes and furniture pieces are in light colors. That's because light colors actually reflect light away whereas dark colors absorb heat. During the summer, light-colored upholstery pieces will remain cooler, especially if they are situated in an area of the room that gets a lot of sunlight. Light colors have also become associated with the sunshine and warm weather because of this trend, so they are a good way to decorate your space for the season.
Appropriate Fabrics
Certain fabrics do a much better job than others at staying cool, so you want to be thoughtful when choosing summer fabrics for your home. Below are a few fabrics to consider for various upholstery or textiles within your home.
Cotton. Cotton is a breathable material meaning air passes through it easily and it does not make you feel sweaty. It's pretty inexpensive compared to other textiles and comes in many colors and patterns, so it is easy to find a cotton throw, curtain, or even slipcover that fits with the look you are going for. Cotton is also easy to wash, making it a great choice for a slipcover or a throw blanket as it can go straight into the washing machine.
Canvas. Canvas fabric is durable and breathable and is great for outdoor furniture because it is often waterproof, but can work indoors too. They clean easily and are resistant to snags and easy damage. Canvas curtains are in style and add a rustic yet elegant look to your home.
Microfiber. This material is soft and easy to clean while also wicking away moisture and staying cool. It does not absorb heat so it's a great choice for the summer, especially if you have a family with young children or pets.
Linen. Linen is a light-weight fabric that is extremely breathable and wicks away moisture, meaning it will not become sweaty. It also doesn't pill and allows tremendous airflow when used as a blanket or in sheets, meaning it won't trap heat and make you feel too warm. It does not get staticy and is actually comfortable all year long, so you may not want to switch it out at the end of the season! Linen is a great choice for sheets, blankets, and slipcovers.
No matter what kind of summer fabrics for your home are your favorite, we will help you find the color, style, and material that makes your home feel complete. At Howard's Upholstery, our experts work closely with you to make sure your home's textiles are exactly what you are looking for!