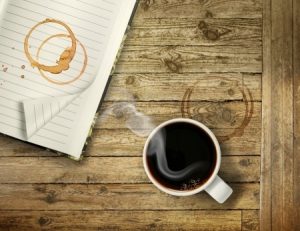 They protect each person's home surfaces from scratches, spills and heat, fastening in place without marring table tops. The Superman of furniture protection, they are custom made to fit any surface.
Who are these mysterious, masked heroes? Table pads, of course, working hard to keep your furniture looking brand new!
Table pads are much more versatile than you might have previously given them credit for. In fact, they can find a full range of uses beyond just your kitchen and dining room furniture. So where else can you use custom-made table pads at your home?
Coffee Table
You likely use your coffee table for many purposes – holding books and other trinkets, as a place to rest beverages and food, to play card games on. Whatever your coffee table used for, the odds are good that it can easily get damaged by a wet or spilled drink or scuffed as you slide remotes or poker chips across its surface. You won't have to worry with a table pad, however, which can protect your coffee table surface while allowing you to continue using it just as you always have.
End Tables
Do your guests – or your kids or your husband – conveniently forget to use coasters for their ice cold beverages at get-togethers or while watching TV? Keep your end tables in pristine condition and reduce those unsightly drink rings with table pads. Table pads can be cut to fit the exact size of your end table, protecting against the abuses of family, friends and neighbors and extending the useable life of your living room furniture.
Vanity Counter
Foundation, blush, eyeliner, mascara and powder – dealing with makeup can be just as messy as your cooking and baking ingredients. Then of course you have your perfumes, lotions and other fancy face creams to worry about. Protect your vanity countertops with a table pad! Avoid the mess that accompanies putting on your face each day and keep your vanity counter looking as good as new. Have a habit of placing your curling iron or hair straightener directly on your vanity counter? Table pads protect from heat damage as well!
Dressers
Finally, table pads can find use in your bedroom, as well, by covering up the tops of your dressers. Dresser tops can see many potential assailants during their lifetime – scuffs from a plastic laundry bin, hot or cold beverages brought in as a nightcap, burning candles and hot wax, remote controls and much more, all of which can leave scratches or cause other damages. Put your worries to rest and prolong the good looks of your bedroom set with table pads. Designed to fit perfectly, they can blend or contrast with the natural wood grain look of your dressers while reducing the risk of damage.
For any room in the home, you can find the perfect, custom-made table pads for your furniture at Howard's Upholstery. Our custom table pads will provide the protection you need or help you breathe new life into an otherwise worn-out item. Learn more today by calling us at 718-680-3535.