The first thing you do when you move into a new home is redecorate – paint the walls, change the curtains, and hang up your own pictures. That's true even when you're the president of the United States! The White House may not get an exterior makeover with every new president, but its interior certainly gets revamped – and the drapes are no exception.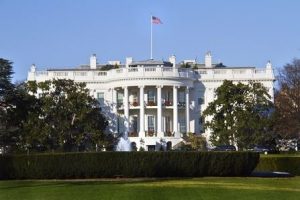 An update in décor is only fitting to usher in a new era in the White House. According to the White House Museum, nearly every president since Hoover – who actually used a different office in the White House and not the Oval Office of today – has changed up the style and décor of their office.
During President Obama's tenure, the Oval Office had a light beige central rug and drapes in a red-orange color. He also had the room painted tan with light beige vertical stripes. His predecessor, President George W. Bush, opted for a pale gold rug with a sunbeam design – much like Ronald Reagan's rug – and antique gold drapes. President Bill Clinton's Oval Office had a navy blue rug and a different style of gold drapes.
Two presidents kept the design of the Oval Office unchanged – Eisenhower and Carter. Reagan also left the office unchanged during his first term, but added a faded gold rug during his second term with a sunbeam design.
There was much speculation about what President Trump's Oval Office would look like, and it appears that it will incorporate elements from several of his predecessors. According to TMZ, we so far know that the new drapes seem to be the same as those Hillary Clinton picked out for her husband's term, while on the floor, Trump has reinstalled Reagan's sunbeam rug. He also took a page from George W. Bush's overall furnishing, choosing gold brocade sofas for the seating in the office.
Based on the style of Trump Towers, we might have guessed that our new president would choose lots of gold for his new office. This change in décor signifies a change in power and policy, and his gold Clinton drapes show that he has traditional, but luxurious, taste.
As evidenced in the Oval Office, a simple update to the draperies can make a big change in a room. The same is true of changing out draperies in your own home. Howard's Upholstery can help with our custom draperies service. Learn more by giving us a call today at 718-680-3535.