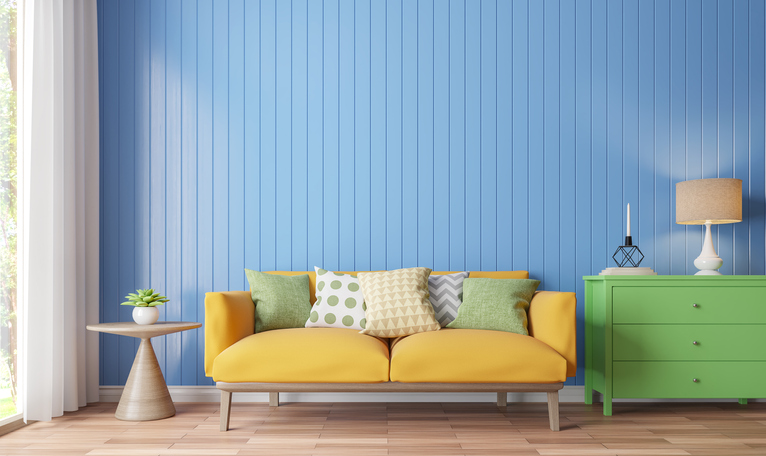 Summertime means warm weather, which allows for a variety of home improvement projects. If you have old upholstery that you are looking to replace, or if you find upholstered furniture someone is giving away that fits your space but looks old or out-of-date, consider upcycling! There are a variety of strategies you can use to make that tired, old upholstery looking new and exciting again. Here are a few of our favorite ways to update your upholstery!
1. Reupholster
If the shape and size of the furniture is perfect for your space but it's lost some fluff and the material looks faded, you may want to reupholster it! Reupholstering means changing out the fabric for something new and fresh, including updating the batting (the "fluff"). You can look up some DIY videos and tackle this job yourself, or you can hand it over to the professionals. Getting your furniture professionally reupholstered is still cheaper than buying a whole new chair, and it saves you time and energy. You can really get creative when you reupholster because you get to completely change the fabric to one that perfectly fits your taste and style.
2. Paint the Legs
Simply painting the legs of your couch or upholstered chair can completely change its look and bring it from dated to fashionable. You can get funky with your color choice or go with something more classic. You can even replace the legs entirely with a stylish new material like acrylic or metal. If you want the metallic look without having to replace any furniture parts, certain paints come in metallic and can look quite realistic.
3. Add or Update Throw Pillows
One of the easiest ways to update your upholstery: throw pillows. Throw pillows add dimension to your furniture and give it a more finished look. If you already have throw pillows, you might find you want to add more, or you might want to cover your existing throw pillows in new pillow covers to fit your updated aesthetic. If you don't have any throw pillows, you definitely want to go to the store and pick out a few. They don't all have to be the same color or pattern, but they should coordinate with each other and with the furniture they'll be living on.
4. Utilize Slipcovers
A super easy way to update your upholstered furniture is to cover it in a slipcover. Slipcovers come in a variety of colors, patterns, and materials so you can give the look of a new couch or chair without actually investing in one. The best part? Slipcovers can be removed and tossed straight in the wash!
5. Get a Professional Cleaning
Sometimes, a good cleaning is all your upholstery needs! You can always clean your couch yourself, but a professional uses tools and products you may not have at home to achieve a true deep cleaning. You'd be surprised at how refreshed your furniture will look when the cleaning is complete!
At Howard's Upholstery, we can help you with all aspects of upholstery care, from reupholstering to creating custom slipcovers to professional cleanings. No matter what your upholstery needs are, we can help your furniture get from drab to fab! We'll help you update your upholstery so that you absolutely love it!