If your living room has been feeling a little blasé lately, it might be time for an upholstery makeover. Upholstery has been a driving trend in design for the past few years and things have really surged in recent years. Many old trends are finding new life today, and for those who aren't familiar with the latest trends on the upholstery scene, let's explore some of the top trends expected to be big in 2017.
Modern Mixed with Old-Fashioned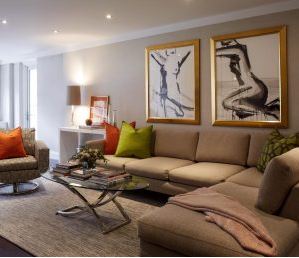 According to the Wall Street Journal, styles in upholstery are trending away from modern and monochromatic, and moving instead toward Old World ornamentation and decoration. That means that tassels are in, along with rich, comfy colors like reds and blues, mixed with golden tones. This will give your modernly decorated living room a hint of nostalgia, comfort and opulence all at the same time.
Weaves of Colors
If your recently renovated living room feels a little bit too cold and modern for your taste, try mixing in bold, graphic patterns by redoing a chair or your couch with something eye-catching, suggests Dering Hall. Geometric patterns, inspired by Scandinavian flat weaves, will draw the eye, but easily mix with your other furniture. We're encouraging a mix and match of patterns here, so if you have an armchair and a patterned rug, try reupholstering the armchair in a bold pattern with complementary colors. You might be surprised how much you love it!
Anything but Beige
As we move into 2017, another trend to know is that beige is on its way out. Dering Halls also notes that while neutral and warm tones are still a popular choice, colors other than beige can offer your room a more attractive and appealing look. If you're re-doing a centerpiece of the room, like your couch or loveseat, choose a comfy, cozy fabric in a warm gray to add a neutral look. The sleek gray color will mix well with a casual fabric and give your couch endless versatility no matter how you may otherwise change your room's overall décor.
For more inspiration and tips, check out Howard's Upholstery furniture restoration and custom upholstery services. Our fabric experts are standing by to assist you in revolutionizing the design in your living space. Schedule a free-in home consultation today by giving us a call at 718-680-3535.