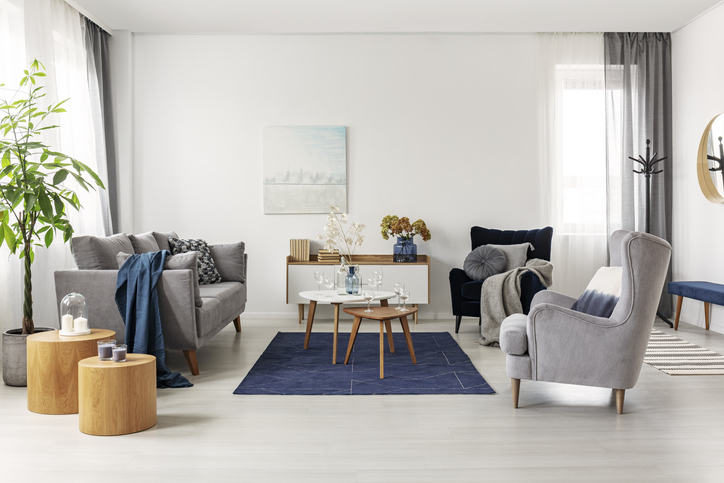 The start of the year is a popular time to make resolutions about how you're going to eat, spend money, what habits you're going to take on, and so on. You may be considering some resolutions for your home this year, too. If you feel uninspired by your living space and like you need a change, there are some simple ways you can update your home without investing too much money or upheaval. Check out these easy New Year's resolutions for your home.
1. Clear Clutter
Mail, school projects, notebooks, bills, and other clutter can quickly build up on surfaces of your home if you don't have a system in place for dealing with those items. You may suspect this already, but clutter has a negative effect on your mental health. Additionally, clutter distracts the eye from all your beautiful furniture and other aesthetic aspects of your space. If there's just one New Year's resolution for your home that you want to take on this year, getting rid of clutter is a great contender.
Placing objects that don't have a "home" into drawers or boxes (colloquially known as "doom boxes") in order to clear your surfaces is one strategy for dealing with clutter. Another is to come up with systems to actually deal with each item as it enters your home so you don't have need for "junk drawers" and "doom boxes" to begin with. The most important thing to remember is that your system has to work for you, so manage that clutter in whatever way you find most doable.
2. Clean Upholstery
An easy way to breathe new life into your space is to have your upholstery cleaned! You'd be surprised how much dirt and dust has seeped into those cushions, as well as into your rugs and curtains. They may not look dirty to you, but after you have them cleaned, you'll realize the difference! Your furniture and drapes will look new and vibrant again, and the air in your home will be cleaner, as well.
3. Stick to an Intentional Color Palette
With all the choices in stores today, we completely understand how a person can amass a collection of throw pillows or blankets or other items in a variety of different colors and patterns. The thing is–if you introduce too many colors into a space without intentionality, it can seem overwhelming and therefore stressful. An easy and simple New Year's resolution for your home could be to take stock of all the items you have in a room, decide which colors you'd like to feature, and stick to that color palette.
Keep in mind the 60-30-10 color rule, which states that your primary color should take up 60% of your space, your secondary color should take up 30% of your space, and your accent color should take up 10% of your space. This design rule about color helps keep your space looking balanced and pleasing to the eye.
Achieve Your New Year's Resolutions for Your Home
No matter how you want to update your space, the experts at Howard's Upholstery can help. Between our services in reupholstering, furniture refinishing, upholstery cleaning, and creating custom pieces for your home, we can provide the updates you need. Let us help you love your space in the new year!