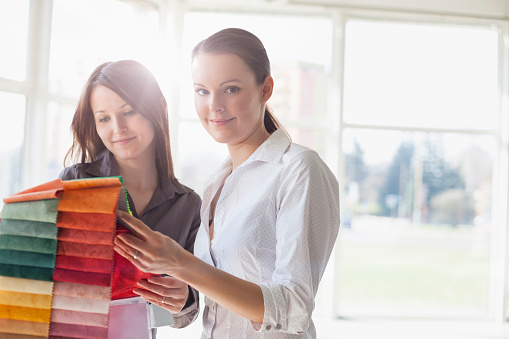 Shopping for your home has certainly changed in the past few years. Convenience is key when envisioning a new surrounding for your home, and in many cases, your work environment as well! Making updates to your home, FROM your home is certainly a convenient way to stay on-trend and make you feel refreshed this spring.
With every new season, comes a new beginning! Spring is often the time of year when we look around our homes and think about redecorating. Should you reupholster your sofa or your favorite chair? Should you invest in something new? Shopping from home is the easiest and most convenient way to decide what will work best for you because you will easily be able to visualize your new home decor.
There are many advantages to shopping from home when it comes to decorating:
Bring the Designs to You
When you're deciding on a new fabric for your older sofa or envisioning a completely new arm chair to sit in front of your favorite window, a designer who comes into your home with samples and a vision can help you decide what will work best for you in your space. If you work with someone you can trust, then you can easily compare prices, see which style works for you and figure out which designs and budgets are the perfect fit.
A knowledgeable interior designer will bring the latest trend ideas, materials, colors and furniture design ideas right to your home for your viewing and choosing. They can provide valuable advice and guidance to help you create a cohesive and stylish space that reflects your personal taste, as well as meet your functional needs.
Convenience of Shopping From Home
There is nothing more convenient than opening your front door and having the shopping come to you in the comfort of your own home, without ever having to leave or deal with crowded stores. Shopping from home saves you time that you would otherwise spend traveling to and from stores, as well as time browsing through products and waiting for sales help. You will also not have to stand in line to pay when you shop from home.
Increase Your Property Value
A well-designed interior can certainly add value to your property, and in this very competitive real estate market, every little bit will help you get the best price if you are looking to sell. Even if you decide to rent out your property, Howard's Upholstery can help you enter the competitive market in style.
Shopping From Home With Experience Interior Designers
Working with an experienced interior designer can be helpful in many different ways, but working with one who has the capability of coming into your home to help make changes that will work with your lifestyle and personal tastes can be extremely advantageous.
At Howard's Upholstery in Brooklyn, you will always benefit from over 40 years of decorating and designing experience. If you are looking for window treatments, new fabric for a chair or a sofa, upholstery services or any customized furniture, Howard's Upholstery can help. Our interior designers are skilled at creating beautiful spaces, and they possess a trained sense of what will need to be done when it comes to your interior design needs. We will oversee the day-to-day operations of ordering your items, keeping track of your budget and directing vendors. If you are looking for window treatments, new fabric for a chair or a sofa, upholstery services or any customized furniture, the designers at Howard's Upholstery will make it happen.
At Howard's Upholstery, we will always help you create a beautiful, functional and personalized living space that reflects your unique style and that meets your needs. Reach out to us to get started shopping from home…for your home!