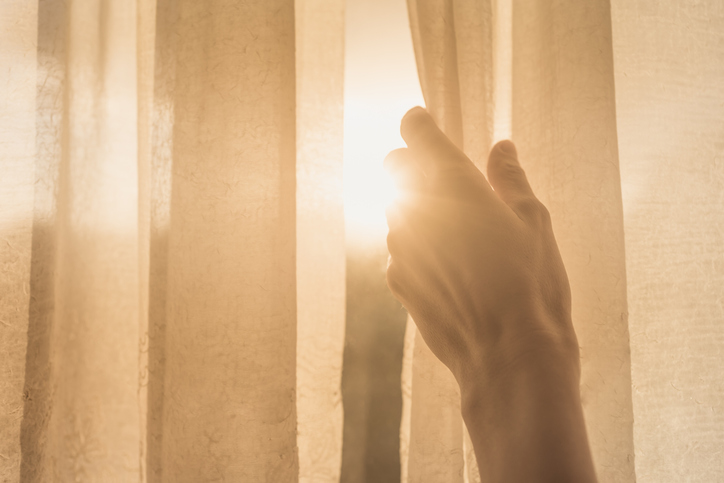 Some people may like waking up to the sun in the morning, but if the sun's rays are so bright they're practically poking you in the eyes, it can be more of a rude awakening. For those who need to block out the sun's strongest rays, or for those who just like to sleep in, blackout drapes can be extremely helpful. If you have kids you are putting to bed before sunset in the summer and early fall, or who take naps in the middle of the day, blackout curtains are downright essential. You may be wondering if there are certain curtains that work best as blackout curtains, or how to create blackout curtains without completely replacing the curtains you already have. Luckily, we have the answers.
1. Layer Drapes
If you have the ability to layer drapes, you will be able to block out significant sunlight without having to purchase blackout curtains. In fact, layering drapes strategically slightly wider than your window frame will allow you to effectively block sunlight from leaking around the sides of your curtains. You can also create a sophisticated aesthetic with layered drapes, so there are multiple advantages to going this route.
2. Add Blackout Lining to Your Curtains
You can actually turn your existing curtains into blackout drapes by adding a blackout lining. This is something you can do yourself or have a professional take care of. This method can get pricey, and also requires time and labor from you if you decide to save money and install the blackout lining yourself. It may be simpler and more cost effective to purchase blackout drapes with the lining already in place. Which brings us to–
3. Buy Blackout Curtains
You can buy ready-made blackout drapes sold in one layer. They come in many different styles and colors and are less expensive than adding another layer to your curtains (or buying curtains in multiple layers). Keep in mind that you may still have sun shining through the sides of your curtains, so you may want to consider hanging your blackout drapes a few inches wider than your window on either side, as well as having them layer each other where they meet in the middle. A valence is also a great idea to block sun from peaking through the top of your window.
4. Install Shutters
If you really feel that drapes are not doing the trick for you, or you don't like the look of drapes, you can always go for shutters. Shutters will really keep your room dark during even the sunniest time of day, so they are sure to let you sleep past sunrise. Like drapes, shutters come in a variety of styles, so you can achieve the look you are going for.
At Howard's Upholstery, we can help you choose the best drapes to block out the sun, whether you are looking for blackout curtains, layered curtains, or to add a blackout lining to non-blackout curtains. If you want blackout window coverings to keep that sunrise from waking you up, we're here to help!