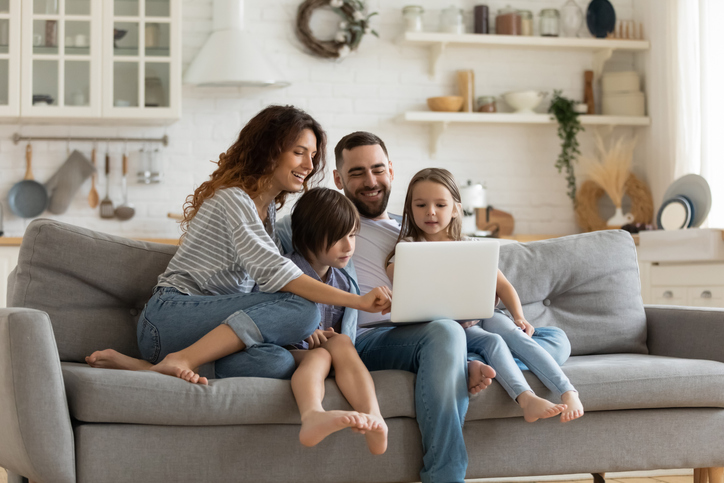 You want a nice couch, but you have young kids or pets at home. Is it possible to have both nice upholstered furniture and pets? Can you have clean couches with kids? We say yes! It all depends on what materials you pick for your upholstery. Some fabrics and textiles hold up better than others to non-gentle use, spills, and dirt. Here we have compiled a list for you of ideal fabric materials for you to gravitate towards as you pick your new couch or reupholster an old one while you also have a young family (or a pet).
1. Microfiber
Microfiber is a tightly-woven fabric that will not pill or snag, making it a great choice for families, especially if you have pets. This material is also quite easy to clean, so if you have some messy kids, you can relax and let them on the couches without sacrificing the look and integrity of your couches. If you are on a budget, microfiber is often more affordable than other materials, such as leather, and it still has the cozy aspect like suede or velvet without being as high-maintenance.
2. Canvas
Canvas is another fabric with tight weaving that will be sure to withstand any hard use by pets or kids. The material is relatively inexpensive which makes a great choice to make into a slip-cover. This way, in case it does get too dirty or damaged over time, it is easily washed, repaired, or replaced.
3. Leather
Leather is the priciest option we are presenting to you, but you may decide it is worth investing in. It doesn't snag, fur or hair won't stick to it, and it is easy to clean. If you have a pet that does settle in a particular part of the couch, it can create a darkened area but that actually contributes to the patina of the leather, which is considered beautiful and desirable. Leather is also a great choice for kids – and adults! It is soft and comfortable, often molding to your body in just the right ways as you lounge on it. Its durability means that it will last years no matter how much it is used.
4. Outdoor Furniture Material
Many couches meant for the outdoors are made of a material that is able to withstand harsh weather conditions, meaning it is often able to withstand pets and kids, as well. It doesn't stain easily and dirt comes right off with washing. Depending on the weave of the material, it might be susceptible to snagging, so make sure you pick a piece of furniture that has a tight weave.
No matter what your style and color scheme, we at Howard's Upholstery can help you choose the material that best suits your couches, your home, and your family's needs. Having kids and pets doesn't mean not having nice things – it just means you need the right nice things!