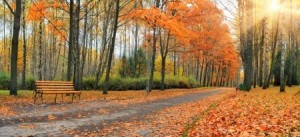 We have dedicated A LOT of posts on this blog to the power of furniture trends. There have certainly been complicated ones, such as multifunctional sofa/dining tables, canvas furniture, flexible bookshelves, and expandable mobile dining units. Now those seem like furniture straight from the future and might be out of your comfort zone, but those are one specific set of trends. Other trends are more, shall we say, simple.
The simpler trends involve the seasons, meaning that the furniture you have in your home is often dictated by what season is twostepping in your backyard and on your front lawn. That being said, fall is right around the corner, which means a healthy dose of new trends for your home. It's time to get rid of those summer fancies and embrace the new season, as discussed in this Detroit Free Press article.
Kim Cook writes, "With the popularity of midcentury modern, some designers are ready to move forward to a 1989s redux. Decorators have welcomed '60s- and '70s-era macrame, flame stitch, classic furniture and retro fabric prints. Willy they also embrace Memphis style – the '80s design movement characterized by disparate geometric shapes and contrasting colors?"
So, it seems that in October, we will be traveling back in time, conjuring up the look and feel of the riotous 60s and indulgent 70s. In a way, that makes sense. While beautiful, fall tends to drain us of our energy – maybe it's cause of all that newfound darkness. We need that energy of a flame stitch or the zaniness of retro fabric prints to give us that jolt of energy, like a dozen cans of Red Bull, to get us through these upcoming days of darker-ness.
What do you think? Will you be influenced by these autumnal trends? Let us know in the comments below.