When we buy our furniture, it is an investment. We want a quality product that will not only provide us with somewhere to kick up our feet but something that looks good as well. Unfortunately, the great look of furniture can be limited by time, and as wear, tear and use begins to take its toll, your furniture can start to look dingy and unappealing. If your furniture shows these signs of decay, Howard's Upholstery can help get you a fresh new look.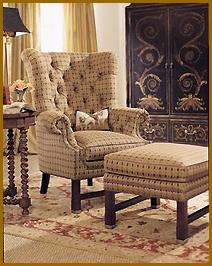 We offer custom upholstery services to take the old and worn furniture in your home and make it look like new again. So when your furniture isn't the same shade it was when you first bought it, there's no need to worry, as Howard's Upholstery will be able to reupholster your furnishings to your liking and give it that great look it had when you first brought it home. It doesn't matter if your couch's fabric has started to separate or your table could use a little TLC, Howard's Upholstery's custom upholstery services have you covered – well, recovered!
This service could also be used to help you when you're looking to redesign a room in your home. Depending on what you want the room to look like, we will work with you to take your existing furniture set and transform it into a wholly new-looking set, helping match your décor and your design with your chairs, couches and more.
A redesigned room isn't complete without window dressings, though, is it? Fortunately, Howard's Upholstery can help with that as well as we also offer custom window treatments that can be done to fit with the look of your newly redesigned room or to bring a fresh new pop to an older room's décor.
If your furniture has faded, shows stains or is torn and could use some attention, trust the experts at Howard's Upholstery. Located in Brooklyn, New York, we offer custom upholstery, furniture restoration and custom drapery services to make your home look great. For more information on our full range of services, call us today at 718-680-3535!