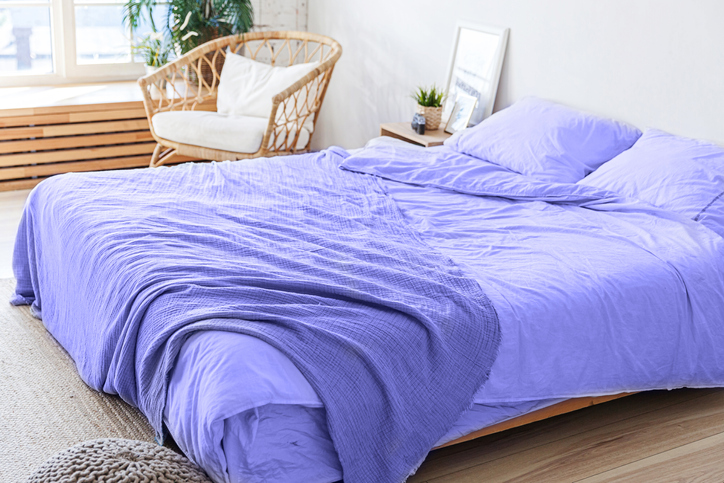 New Year's is almost here, and if you're ready to make a change in your home, it's a great time to check out the home decor trends for 2022. No matter what style you love, there are ways to incorporate your personal aesthetic with popular looks so your home stays true to you yet on trend at the same time.
1. Incorporate Periwinkle
Pantone's 2022 color of the year is a shade of periwinkle they named "Very Peri." Any shade of periwinkle will show that you are paying attention to what's in style. You can incorporate this color in small ways like with a picture frame, vase, or other accessory. For a bit more of a punch without making any drastic changes to your living space, add some periwinkle in a throw pillow, throw blanket, or even in bedding, a rug, or a slipcover. If you are in need of a new upholstered piece of furniture, you can incorporate the color into the upholstery. Periwinkle is a tame enough color that it can blend nicely with neutrals and is easily incorporated into many different color schemes.
2. Earth Tones
Earth tones like greens, browns, and terra cotta have been particularly in style for the past year or two, and it's no surprise why. We live during a tumultuous and stressful time, and earth tones help us think about the soothing, peaceful aspects of nature. If there's anything people want to feel these days, it's soothing and peaceful. Add earth tones into your space with curtains, paint, rugs, throws, and even furniture.
3. Natural Materials
Continuing with the nature theme, natural materials are extremely in style these days. Terra cotta, as mentioned above, is particularly popular, as is bamboo, stone, and clay. In the soft material realm, linen, suede, and leather are hot right now and provide a nice balance to the other materials in your space. Leather couches look sophisticated and can be softened with linen and suede throws. Linen drapes add a light, airy touch to your space. Mixing materials is a great way to add subtle interest to your home decor.
4. Indoor Plants
Indoor greenery has become quite popular as people yearn to experience a bit of the outdoors while they are inside. Potted plants, indoor trees, and kitchen herb gardens will continue to grace people's homes and bring them that fresh, natural feeling that only living greenery can. In your upholstery, you can play on this trend by incorporating some floral patterns.
5. Stay True To You
Most of all, it seems that individual aesthetics without getting too "trendy" are what's popular these days–and we fully support that! As the world continues to deal with the uncertainty that living during a pandemic brings, people are clinging to what they love when designing the interior of their home, and why shouldn't they? It's more important that your home is a place that brings you comfort, solace, and happiness rather than following a trend that doesn't speak to you.
At Howard's Upholstery, we can guide you along the home decor trends for 2022 so your home can feel trendy while also true to your own personal style. Whether you need reupholstering, a new furniture piece, or some accessories like drapes or throws, we're here to help you love your home in the new year.