When celebrating the Thanksgiving holiday with friends and family, the last thing you want to worry about is damage to your furniture. Using slip covers can easily protect your furniture, while also offering new looks in your home.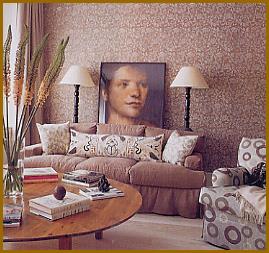 There are a variety of options available when it comes to furniture slip covers. From our wide selection of fabrics, you can choose from creating the most casual to the most formal new look in your living room. To make your slip covers more unique, you can even add details to them, including contrast piping and cushion covers.
Slip covers work perfectly to protect your furniture from stains because a slip cover covers the entire piece of furniture. This means that any food or drink spills on the covered piece of furniture, the cover would protect your couch, chair or other item from damage and staining. Slip covers that are lined with plastic also keep liquids from seeping through to the furniture, which allows slip covers to provide extra protection so that the fabric can remain beautiful and stain-free.
In addition to slip covers offering a great fashion statement and protecting your furniture from spills and stains, slip covers can also extend the life of your furniture. Since fabrics tend to fade – whether in vibrancy or in style – furniture is often replaced while it is still in great condition. Adding a slip cover offers an alternative to spending a lot of money to replacing furniture that does not really need replacing.
A slip cover can also change the color appearance of the furniture, helping it fit in with a new color scheme you may desire in your home. Changing the color of your furniture through slip covers is also an easy way to decorate your home in festive Thanksgiving colors, including orange, yellow and brown.
For a free in-home estimate, which includes measuring your furniture to create custom slip covers, call Howard's Upholstery today at 718-680-3535, or visit our showroom at 7113 13th Ave. in Brooklyn.