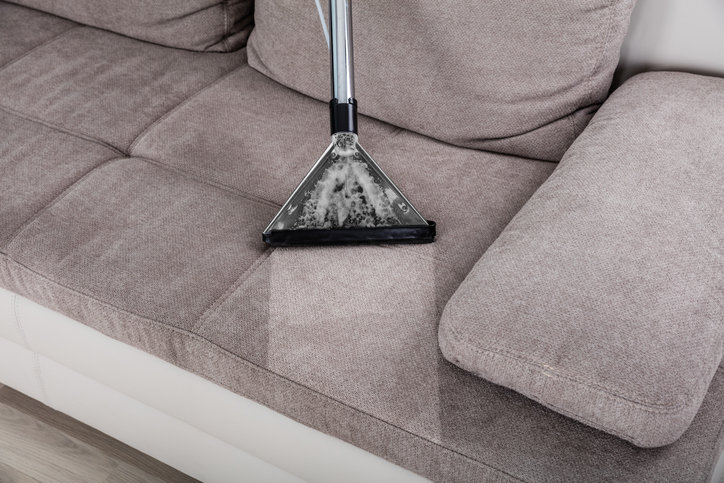 When you buy furniture for the first time, it's a big deal. High-quality furniture comes with a high-cost price tag. Even "cost-affordable" furniture can be a large purchase for many first-time buyers. The more you invest in your furniture, the more you will be interested in that investment lasting over time. Is it possible to maintain your upholstered furniture so that it actually lasts? The truth is that good furniture that is well cared for should last you years.
That said, you don't want to feel like you can't sit on your furniture and enjoy it, especially if you have kids or pets. The days of buying furniture just for show and the occasional important guest are over. So how do you keep your furniture from wearing out? The goods news is that there are things you can do to protect your upholstered furniture, and there are ways to bring it back to life if you feel it has seen better days.
1. Add Slipcovers
The first line of defense for upholstered furniture is adding a slipcover. A slipcover is material that goes over the upholstery of your couch or chair so that it receives the brunt of the physical interactions. Any spills, dirty fingers, or accidental tears will happen to the slipcover and not to the upholstery underneath. It is much more cost-effective to replace a slipcover than an entire couch. If your slipcover gets dirty, you can remove it and wash it according to its directions and your couch will look pristine again without much effort or cost.
Additionally, if you are the kind of person who likes to redecorate frequently, slipcovers are an excellent way to update your space while keeping your furniture. If you had a gray slipcover and now you are dreaming of a teal couch–no problem! Switch out the gray for teal and you'll spend significantly less than if you went searching for entirely new furniture pieces. Money aside, it is not always easy to find couches you love that are comfortable and in the shape and size you want. If you do find the perfect couches for your home, hold onto them! Protect them with slipcovers or employ some of the other strategies in this list.
Slipcovers are not for everyone. You may love the upholstery of the couch itself, or you may just not like having a slipcover on your couch. That's okay! While slipcovers are the easiest way to maintain your couch, they are not the only way.
2. Reupholster
Often, when a couch looks worn or dingy, or if it has actual tears or holes in the fabric, the couch frame itself is still in excellent condition. If you still like your couch, there is no reason why you have to replace it. Your couch simply needs new upholstery. Reupholstering your couch is significantly less expensive than buying a new one, and it is a great way to breathe new life into your upholstered furniture.
When you reupholster furniture, not only do you receive new upholstery, but the upholsterer does a thorough investigation of the state of your furniture piece. Screws may need tightening, springs may need replacing, and joints may need repair. The stuffing and padding inside the couch may also need to be replaced, especially if the couch is well-used. So not only will you receive a new look, but the condition of your couch will be restored so that when you sit on it, it will feel new.
Reupholstering is also a great way to update an old piece of furniture you may have inherited or bought used from someone. Outdated furniture with a sturdy frame can be rescued and made into an entirely new couch that fits perfectly in your home's style. If the piece is an heirloom, you can feel good about actually using and enjoying the family couch instead of keeping it in storage or feeling that it is an eyesore.
3. Clean Your Upholstered Furniture
Sometimes, a worn or dingy couch just needs a good cleaning. If you have kids and pets, you will likely find that your upholstered furniture may look worse for wear quicker than you think, even if the cushions are still plenty fluffy and the material is still technically intact. You can clean your furniture yourself with some gentle soap and water, and vacuuming is easy enough, but if your couches have more than just a spot or two of dirt, a professional cleaning may be warranted. Professional cleanings are not expensive compared to buying new furniture, and you will be surprised how much fresher your couches will look afterward. The environment we live in affects our mood and energy levels, and having dingy furniture in your home definitely sets a tone.
Cleaning your upholstery is important even if your couches haven't yet reached the "dingy" state, as it helps maintain your upholstered furniture over time and prevents dust buildup. Upholstery often collects dust, hair, pet fur, and other allergens. You may not even notice the allergen buildup, as much of it is microscopic, but regularly vacuuming your upholstery will help allergy-sufferers in your home breathe and feel better.
Maintain Your Upholstered Furniture With Professional Help
Before giving up on your furniture, consider your options. Professionals at Howard's Upholstery can help you restore your furniture and protect it so it will last you longer than you thought possible. You will ultimately save money you would have spent on a new couch, plus the time spent researching and shopping for a replacement, by working to maintain your upholstered furniture so you can continue to enjoy it for years to come.