As surprising as it may be, slip covers have a long history dating back to medieval Europe. Although the idea of creating a protective covering for furniture is a simple one, it can serve both a practical purpose and beautifully transform a room.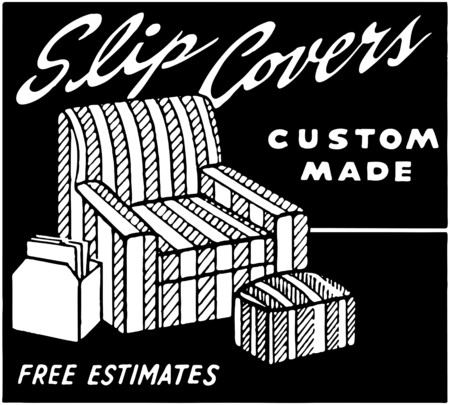 During medieval times, slip covers were used to protect rarely used furniture from accumulating dust or attracting insects. Owners would cover furnishings with cloth – often white muslin or lightweight canvas, according to Comfort Works – to keep them protected from the elements, including sunlight, humidity and even rodents, as well. While slip covers started strictly for protection, they soon evolved to become a furniture fashion statement.
By the 18th century, rich English ladies bought custom-made furniture covers from their tailors in breathable fabrics for use in the summer. This quickly turned into a display of showmanship for tailors and homes, as tailors worked to put together attractive covers with accents like piping, cords, bows, buttons and ruffles. It continued to be fashionable to display slip covers into the Victorian Era, although slip cover styles changed to provide a looser fit to cooperate better with seasonal weather changes.
Fast forward two centuries to the 1940s and '50s, when slip covers made a bit of a resurgence. During these decades, it was very popular to cover furniture in new materials – notably clear vinyl or plastic. This helped protect furnishings with "space-age" technology that was new and novel, but as technologies evolved that made cleaning and maintaining furniture more quick, convenient and effective, the trend soon faded.
Despite the plastic association, slip covers have once again made a comeback as a way to transform your favorite piece of furniture into something new and vibrant. If you are looking for a tailored-look to freshen the look of your sofa set, a custom slip cover is the perfect solution.
At Howard's Upholstery in Brooklyn, New York, you can expect our team to take as much pride in the way your furniture looks as you do. As experienced professionals, we will help you choose from a wide array of fabric and style choices to bring your furniture a breath of fresh life. To learn more about custom slip covers, call Howard's Upholstery at 718-680-3535 today.