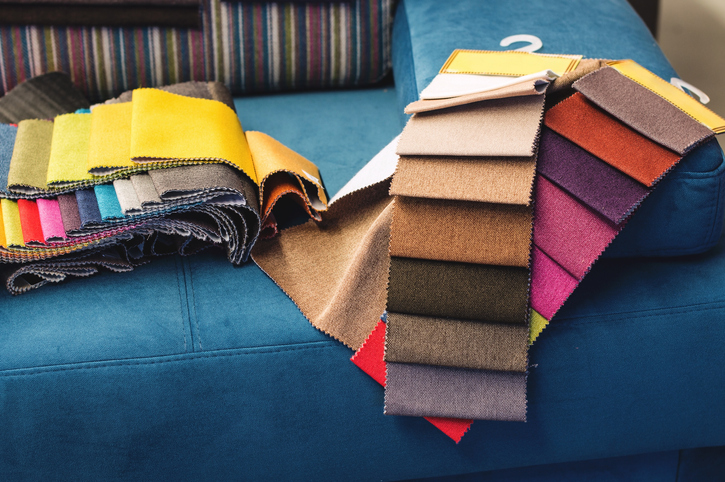 When you're looking to buy upholstered furniture like a couch or a chair, you need to consider the fabric covering it. Upholstery fabrics fall at different price points, have a different feel, different look, and require different kinds of maintenance. Some fabrics hold up well under constant use and some get worn more quickly. If you have young children, you might look for fabrics that are easier to clean. If you have pets, you might want a fabric that is durable and doesn't attract pet hair. With so many elements to consider, we have compiled this guide to upholstery fabrics so you can go into your purchase armed with the knowledge of what fabric works best for you.
Velvet
Particularly in style these days, velvet is a luxuriously soft fabric that gives an air of old-time Hollywood to your home. Paired with acrylic, metals, and woods in clean lines, velvet fits in wonderfully with modern decor. It's plush and comfortable, but also a collector of dust, so you need to clean it routinely. For spills or stains, velvet must be cleaned by a professional, making it a more high-maintenance fabric.
Chenille
While not as plush as velvet, chenille is soft and much more durable. It can withstand heavy use and doesn't usually fade over time. Chenille actually means caterpillar because of its fuzzy tufts. Which are created by weaving different materials, including cotton and acrylic, together in a particular way. Chenille tufts reflect light in different directions, giving it a unique sheen.
Microfiber
A favorite for families with young children and pets, microfiber is both soft and strong. Because of the way it is made, its tight weave doesn't allow for dust buildup yet its soft feel can mimic luxury fabrics like suede and even velvet. Easy to clean, spills bead upon it, giving you time to wipe them away before they cause a stain.
Vinyl
Vinyl is extremely easy to maintain and is inexpensive, making it an attractive choice for new families or families with young children or pets. It is used most often on kitchen and dining chairs for this reason, as well. However, the material can have a sticky feel and can crack over time.
Linen
Linen is light and airy looking, but it wrinkles easily and can be difficult to maintain. It's eco-friendly, hypo-allergenic, and breathable due to its natural fibers, so it's great for a home where people suffer from allergies or asthma. Linen can be washed frequently and it softens the more you wash it, though it does stain easily.
Leather
Leather is expensive and is considered a luxury material, but it is also extremely durable. Though not plush or fuzzy, leather can still be quite soft and is extremely comfortable to sit on. In fact, leather gets softer and more attractive as time goes on. It is pricey, but a leather couch can last you a lifetime.
At Howard's Upholstery, we'll work together with you to give you the upholstered furniture that meets your needs, budget, and taste. No matter which upholstery fabrics speak to you, we'll customize your piece to fit your style and the look of your home.