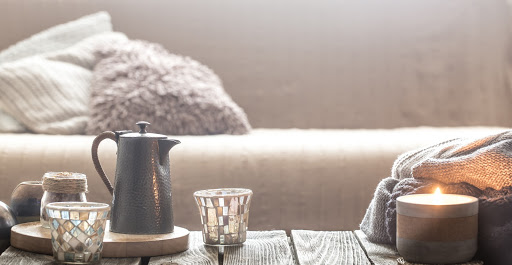 You may have seen this Swedish word "hygge" floating around in magazines, websites, or articles. Pronounced "hooga", it encompasses a feeling of warmth, coziness, and togetherness. Remember that time your favorite cousins gathered around the fireplace sipping hot drinks and laughing together while a storm blazed outside? Or when you and your best friends huddled underneath some blankets while having a great movie marathon in the middle of winter vacation? That's hygge. A "hygge" space isn't just nice though; it can be great for our mental health and our relationships. (Maybe that's why the Swedes rank as one of the happiest countries in the world.) For Thanksgiving, make your space more "hygge" and give it that extra loving touch that so many of us unknowingly crave. Read on below for our decor tips!
Warm, High-Quality Blankets
There's just something about a great cozy blanket that makes people want to cuddle up and hunker down for the evening. However, too many of us have settled for sleeping under items that we found discounted during a store sale, and these less-than-great goods may be affecting our quality of life! When you have high-quality bedding, it can turn a normal event like watching TV into a luxurious relaxation session. Also, rather than stare at mismatched sheets and comforters, custom made bedding can make your whole space look more seamless and inviting to the eye. To save on energy costs while also embodying hygge, throw some nice blankets on your couch. This makes the couch physically warmer while also encouraging guests to gather together — a win-win!
Wood Furniture
Goodbye industrial! We love wood furniture because we believe that it gives homes an elevated sense of style without ever losing that homey feel. And the Swedes agree! A core element of hygge decor is wood furnishings, whether that's an antique table or a chair. The richness of the color is grounding and familiar, and for many, it reminds them of the outdoors, which can also introduce a calming element. If you have wood furniture you want to repair or retouch up in your home, contact a professional to do so.
Gentle lighting
More and more research shows that harsh lighting can affect our sleep cycles and also set us on edge. To create a more hygge home, consider adding elements of gentle light, such as candles around your living room or even a fireplace. These rustic and earthy lighting sources are great ways to make a more relaxing and cozy environment. Maybe that's why candlelight dinners are so popular!
One misconception that comes up a lot is that you can only have hygge homes around the holidays or at night. Quite the opposite! Even in the daytime or summer, as long as you can moderate the light in your space well, hygge can happen year-round. Consider investing in quality drapes or other window treatments to accomplish that.
We believe that decor is more than just material goods. It's a way to cultivate a space that serves you and those you love. For the holidays, if you want a place that is inviting and warm to your guests, add some of the touches we mentioned above for that hygge element. Contact Howard's Upholstery for all of your furniture repair and custom upholstery needs. Whether it's refinishing antique pieces or creating window treatments from scratch, Howard and his team have the experience and care to help you make the home of your dreams.