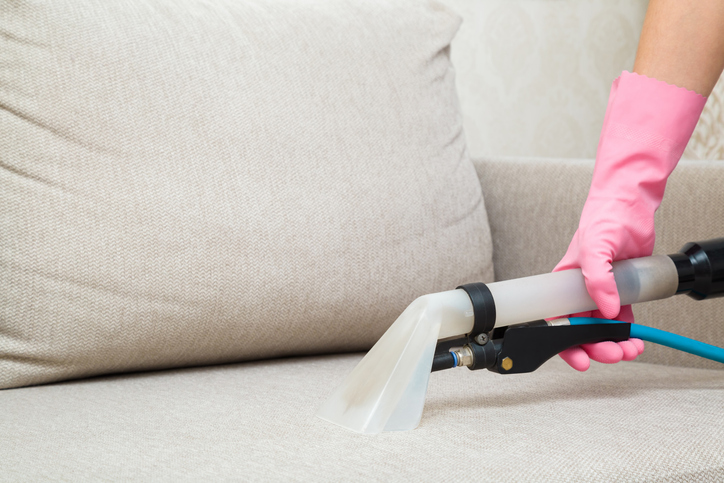 One of the simplest ways to bring life back into your upholstery is to clean it. Oftentimes, a piece of furniture we think of as tired and old just needs a good cleaning to make it shine again. Cleaning your upholstery is also important for your health. Upholstered furniture and other textiles in your living space harbor dust and germs, which can exacerbate allergies and even asthma. Cleaning your upholstery will help clear the air in your home and make your space comfortable and vibrant. So how do you clean your upholstery most effectively?
1. Vacuum
A simple vacuum of your couch and any other upholstery will get rid of obvious crumbs and dust particles that sit on top of the fabric. It's a good idea to vacuum regularly to keep your upholstered furniture clean and neat looking. A regular hand vacuum or the brush attachment of your larger vacuum will work perfectly. Don't forget to remove your cushions and vacuum underneath where they usually sit to get all the crumbs and pet hair that might have slipped through!
2. Check Your Material and Washing Instructions
Not every material can be treated the same way, so it's important to check the specific instructions on your upholstery before beginning any kind of stain treatment or washing regimen. Somewhere on the tag, you will see:
W – Can clean with water-based cleaner

S – Needs dry cleaning detergent, otherwise known as a solvent cleaner

WS – Can use either a mild water-based cleaner or a solvent cleaner

X – Only vacuum, or call in professional help
Depending on the code on your furniture's tag, you'll know how to clean your upholstery safely.
3. Create a Cleaning Solution
If you can clean your upholstery with a water-based cleaner, you can make a cleaning solution out of water, dish soap, and vinegar. This solution should work nicely:
1 cup of warm water

¼ cup of vinegar

1 TBSP dish soap
Mix these ingredients together and scrub them all over your upholstery to avoid water spots. Afterward, you can use a clean cloth to blot your upholstery dry.
If your upholstery needs a solvent cleaner, it's best to call in a professional so it can be done properly and you don't risk ruining your furniture.
4. Clean the Frame
In addition to the upholstered area of your furniture, you'll want to spend some time cleaning the frame. If your frame is made of metal, you can simply wipe it down with a damp cloth, making sure to get into all the crevices and corners. If the frame is wood, you can use some wood polish to really make your furniture shine and look brand new.
If you feel you need help with your upholstery cleaning, or you just don't have the time or energy to devote to the task, the team at Howard's Upholstery is here to help! We'll get your upholstered furniture looking vibrant and new again, not to mention keeping the air in your home clean of dust and allergens. We're also here to answer all your questions about how to clean your upholstery, so don't hesitate to reach out!